Newsweek, October 14, 1991
SUSANNA Jones-Leddy is no shrinking violet when it comes to social issues.  She boycotts nuclear-weapons suppliers, donates money to a world huger organization and is a vocal opponent of Rust v. Sullivan, the so-called gag rule on abortion counseling at federally funded clinics.  Now, Jones-Leddy's activism is getting some support from an unlikely source: her long distance phone company.  The 30-year-old teacher is a subscriber to Working Assets Long Distance, billed by its creators as "the first socially responsible public utility."
The company donates 1 percent of subscriber charges to nonprofit groups working for causes like peace, human rights and the environment.  Last week it began offering free and reduced-rate phone calls to customers who want to make their voices heard in Washington.  Says Jones-Leddy: "It makes it easier for somebody like me to rationalize talking long distance.  We're making a utility service work for the good of the earth."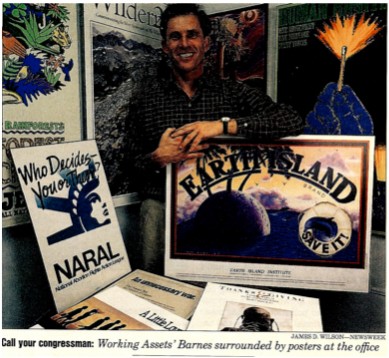 In the '60s, they protested.  In the '80s, they invested.  And now, liberal-minded Americans are being courted by businesses that hope they'll com­bine the two.
In an era shaped by conservatism, a handful of companies are tailoring their merchandise — and their messages — to reflect socially conscious ideologies.  The Body Shop, known for its natural cosmetics and its stance against animal testing, recently offered customers recycled paper bags covered with messages about Amnesty International.  Ben & Jerry's, the ice-cream maker, uses its cartons to inveigh against everything from destruction of the rain forests to exploitation of Native Americans.
SINCE the Persian Gulf War, Act Now, a group of 17 companies that includes gardening retailer Smith and Hawken, Calvert Social Investment Fund and Rhino Records — has joined together to argue for a better energy policy.  "We're first and foremost merchants," says member Anita Rod­dick, founder of The Body Shop.  "But we're merchants of value as well."
Businesses have long used safe-environment themes to sell their wares.  But now some are taking the riskier path of injecting a political message into their marketing.  In supporting the Bryan fuel-efficiency bill pending before Congress, Act Now members have taken on the role of liaison between government and customer.  For example, Stonyfield Farms included a pro-Bryan bill petition for customers to sign in the latest issue of its newsletter.  For a small fee, San Francisco-based Working Assets will even send a canned "CitizenLetter" targeting particular decision-makers.
The rationale, says president Peter Barnes, is to offer an alterna­tive to customers who are frustrated and turned off by politics.  "Demo­cracy is not just about voting," he says.  "It's about an ongoing dialogue between the people and those who represent them.  Our premise is, "Make it easy to make a difference."
Not everyone believes produce lines and proselytizing should mix, however.  Reed Irvine, chairman of Accuracy in Media, a conservative media-watchdog organization, says he was put off last year when he bought a bag of popcorn from a hotel minibar only to find a message about global warming on the wrapper.  The information was inaccurate, he complained in a letter to the hotel management.  But more to the point, "It had nothing to do with popcorn."
EVIDENCE suggests that many consumers are happy to put their money where their minds are.  Sales at The Body Shop have grown an average of 50 percent a year over the past decade, to $143 million in fiscal 1990.  And Working Assets has already attracted more than 50,000 customers to its "reach out and prod someone" long-distance service.
Will the operation spur imitators?  Barnes said he would welcome compe­tition — even from conservatives.  "If we can't have politically distinct political parties in America, let's at least have politically distinct long-distance companies," he says.  And who knows?  Maybe one day, Reed Irvine will buy popcorn that promotes a capital gains tax cut.